Gas cylinder storage rules
It is important to adhere to a few simple rules when storing your gas cylinders. Specific details regarding storage of LPG cylinders can be found in the Liquid Petroleum Gas Association Code of Practice 7 document.
Always – store cylinders appropriately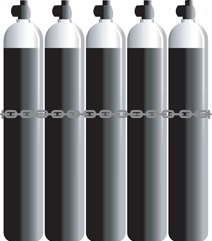 - store cylinders in a well-ventilated, covered area, preferably outside on a level, well-drained surface
- store cylinders vertically and securely to prevent them from toppling
- store full and empty cylinders separately, rotating your cylinder stock holdings so the oldest cylinders are used first
- segregate cylinders by the properties of the gas (flammable, inert, oxidant, and so on)
- ensure appropriate signage is use
Comprehensive details are given in the British Compressed Gas Association (BCGA) guidance note GN2, 'Guidance for the storage of gas cylinders in the workplace'.
Be aware of – the properties of the gas
There are specific storage requirements for certain gas cylinder products.
Storage of cryogenic, liquefied and heavier-than-air compressed gases should be made with due regard to the dangers of gas collecting in low-lying areas such as drains, basements and ducts.
Never - store LPG cylinders with other gas cylinders
store other products in a cylinder store, particularly flammable materials such as fuel, oil, paint or corrosive liquids; this may result in a hazardous situation.
store LPG cylinders within three metres of other gas cylinders. The use of a firewall can reduce the distances.
For full details, please refer to the LP Gases Association Code of Practice 7.