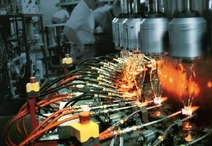 Molten glass is formed into various glass products based on the requirement. The glass products are then etched or polished for smoother surfaces and high quality finishes. This etching and polishing processes are usually acid based and labour intensive leading to high number of accidents and rework.
BOC's industrial gas-based flame polishing and surface coating technologies are highly automated and consistent leading to high yields and low rejects. Flames from our special burners impinge the glass directly to remelt a thin surface layer. Polishing can be used to eliminate or reduce the need for etching, thus reducing the environmental impact and paving the way for a cleaner, safer working environment.
BOC offers the following products for polishing and mould coating:
HYDROPOX®: Using a mixture of industrial gases, a highly automated burner system polishes glass products. The technology is suitable for both thin and thick walled glasses and is aimed at premium products.
CARBOFLAM®: CARBOFLAM® coats a layer of carbon on to glass products. This technology uses a mixture of industrial gases delivered through a special pre-mixed burner system for consistent results. Mould coating is usually carried out on beverage, cosmetic and tableware products.