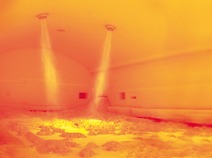 Replacing air with oxygen depletes the nitrogen in a furnace, increasing furnace temperatures and efficiency. The high concentration of CO2 and H2O formed also increases the effectiveness of the gas jet due to higher thermal radiation.
There are a number of oxygen-based glass melting technologies that BOC supports and they are selected based on the type and state of your furnace. These technologies involve either one or a combination of the following processes:
Oxygen enrichment
Oxygen lancing
Oxy-fuel boosting
100 percent oxy-fuel
Please click on the links below to understand more about specific glass melting technologies:
Convective Glass Melting: Increase glass melting through roof mounted oxy-fuel burner technology.
COROX® Hotspot Boost: Improve quality and increase productivity for end-port furnaces.
COROX® Low NOx: Reduce emissions below 800 mg /m3.
Benefits of using oxygen
By replacing air with Oxygen, the presence of the inert Nitrogen in the furnace is eliminated. The increased oxygen concentration increases flame temperature in the furnace.
The high oxygen concentration also results in higher concentration of CO2 and H2O, which are responsible for thermal radiation, resulting in better heat transfer.
Elimination of Nitrogen leads to reduction in Nitrogen Oxides (NOx) and particularly late emissions from glass furnaces.
The other key advantages of using oxygen are:
Lower capital costs
Energy savings
Increased productivity
Enhanced glass quality.