Principle
CO2 is dissolved into alkali wastewater and rapidly forms carbonic acid. Carbonic acid reacts with the alkaline compounds in the water, lowering the pH of the system.
Benefits:
CO2 is environmentally friendly and is known to be the Best Practicable Environmental Option (BPEO) upstream of any biological system.

CO2 is safer than aggressive mineral acid systems. There is no requirement for safety showers or bunded storage areas.

BOC's automated systems required limited operator input and maintenance.
Solutions
Pipeline reactor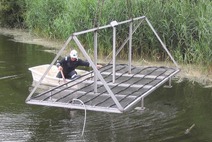 Our pipeline reactor system consists of a CO2 injector and a control system.
The injector injects CO2 at one end of the system, reducing the pH over the length of the reactor, while a pH analyser automatically feeds pH information to our control system that manages the CO2 flow to maintain a desired pH level.
Pipeline reactors are ideal where the flow of water and the pH of the raw water are relatively consistent.
Tank Neutralisation system
BOC's tank neutralisation system is ideal for situations when the flow and pH of the effluent is variable. It incorporates an equalisation and neutralisation tank where CO2 is injected to achieve desired pH levels and controlled by a control system.
The system is fast and very efficient, especially at high pH levels where it is twice as effective as sulphuric acid on a weight-to-weight basis.

SOLVOCARB® B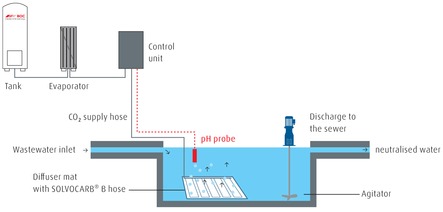 CO2 dissolution via perforated hoses made of elastic and resistant rubber installed on the bottom of the tank.