Storage vessels
These products are designed for storing or handling small quantities of liquid nitrogen.
For cryogenic storage vessels which receive and hold deliveries of liquid products, please visit the cryogenic vessels page.
Small laboratory open dewars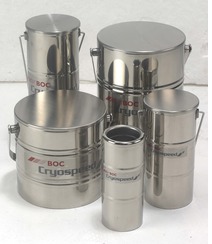 This range of open dewars is ideally suited to a wide range of applications within general laboratory environments.
- open neck stainless steel dewars
- suitable for short term storage or immersion applications
- resistant to vibration, impact and shock
- come complete with handles and lids (except 0.6 litre dewar)
Part no:
19310935
11858846
11880462
11858848
11858849
Capacity
(Litres)
0.6
0.9
1.8
2.6
5.5
External
Diameter
(mm)
87
107
122
200
200
External
Height
(mm)
204
232
312
190
300
Empty
Weight
(kg)
0.5
0.9
1.3
1.8
2.4
Full
Weight
(kg)
1.0
1.6
2.8
3.9
6.8
Larger Open Dewars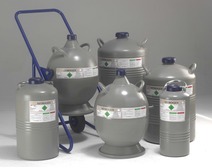 - low pressure withdrawal device
- 51mm and 63mm neck diameter
- allows safe dispensing of liquid nitrogen
Part no:
19311186
19311187
19311188
11881939
11881810
Capacity(Litres)
10
20
25
35
50
EvaporationRate
(L/day)
0.20
0.18
0.25
0.27
0.28
Static
Holding
times
(days)
50
111
100
130
179
Empty
weight
(kg)
5.5
9.1
7.4
12.2
15.5
Full
Weight
(kg)
13.7
25.3
27.6
40.5
55.9
Neck
Diameter
(mm)
51
51
51
63
63
Height
(mm)
560
570
585
650
810
Withdrawal Device
- low pressure withdrawal device
- 51mm and 63mm neck diameter
- allows safe dispensing of liquid nitrogen
| Part no: | Description |
| --- | --- |
| 19311189 | Withdrawal device for 20 and 25 litre Dewar |
| 19311190 | Withdrawal device for 35 and 50 litre Dewar |
Roller Base
- allows easy and safe movement of dewars
- adjustable to fit size of dewar
| Part no: | Description |
| --- | --- |
| 19311198 | Universal Roller Base |
Tipping trolley for 25 litre dewar
- Allows safe movement of 25 litre dewar
| Part no: | Description |
| --- | --- |
| 19311192 | Tipping Trolley |