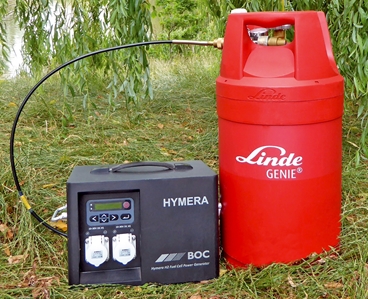 Combined with the HYMERA® hydrogen fuel cell generator, the new, lightweight 54-G20 GENIE hydrogen cylinder is an ideal solution to today's new low-power electrical devices such as LED lighting and security cameras. For these types of application, operating costs are highly competitive with diesel or petrol generators, and can be used in parallel with solar power to greatly extend run-times and minimise footprint.
This cylinder package can be used with a hand tight fitting regulator, making it simple and easy to use.
When full, the 54-G20 cylinder package weighs approximately 22kg and a single cylinder contains enough hydrogen to generate 6-7kWh of electricity.
When used with a battery, it can support a 3W monitoring and alarm system running continuously for nearly 3 months, or a 20W security camera system for more than 300 hours.
Cylinders can be manifolded together for much longer run-times or alternatively the unit can be coupled with solar powered panels for further prolonged energy requirements.
Cylinder specifications
BOC Name
54-G20
Product
High purity hydrogen (99.995%)
Contents (g)
424 @ 300 bar
TARE weight (kg)
22.4
Fill pressure (bar)
300
Max height (mm)
660
Max diameter (mm)
325
Handle diameter (top)
270
Handle diameter (bottom)
294
Base width (mm)
305
kWh electrical (assuming 50% efficient
hydrogen fuel cell)
7 @ 300 bar
5 @ 200 bar
4.5 @ 175 bar