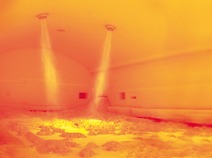 Over the years, we have been working to increase the efficiency of combustion in a glass furnace using oxygen. Originally, this involved enriching the main combustion air with oxygen. We have refined this process leading to our Convective Glass Melting (CGM) technology.
BOC's CGM technology is a roof mounted oxy-fuel burner technology aimed at improving the melting performances of furnaces, leading to higher combustion efficiency and thus more throughput.
Typical Customer Profile
Glass manufacturers requiring additional glass production due to:
Increased orders

Furnace design restrictions

Failing regenerators
Key Customer Benefits
Increased melt rates allows for increased production rates and/or better quality

Crown burners allow for greater oxy-fuel boosting compared to conventional oxy-fuel

CGM is ideal for No-Boron Fibreglass melting, with customers drastically reducing raw material costs

Higher profit margin
To find out more about the benefits that CGM technology can bring to your business, email us or call us on 0800 111 333.