BOC HYMERA is the world's first commercially-viable, low-carbon, hydrogen fuel cell generator – a flexible alternative to small petrol and diesel generators or large battery banks.
Providing up to 175 watts of peak power whenever and wherever you need it, HYMERA incorporates ground-breaking hydrogen fuel cell technology, which produces electricity from the reaction between hydrogen and oxygen from the air, and can easily cope with today's high-efficiency, lower-power electrical loads.
Supplied with readily available compressed hydrogen, HYMERA supports a wide range of commercial and industrial off-grid applications, such as task lighting (e.g. for railway and tunnel maintenance work), security cameras, environmental monitoring and process control systems.
Cost saving
For many applications, the HYMERA can offer very significant cost savings compared to conventional diesel generators, offering savings of up to 75% for loads up to 150 watts.
Quiet operation
HYMERA is almost silent in operation providing an ideal power solution for covert operations or in environments where noise pollution must be avoided.
Operates in all weather conditions
The unit is rated to operate at -10 degrees and in temperatures up to 40 degrees, and can self start* in low temperatures, ensuring you do not waste hydrogen keeping the unit warm to operate when needed.
Emission free
The only exhaust is water vapour, so HYMERA is good for the environment and can be used in sensitive areas such as near water and in tunnels and other restricted spaces.
Carbon saving
A 50W camera powered by a conventional diesel generator will emit 2.5kg of CO2 per hour. The CO2 footprint of the same camera powered by HYMERA and hydrogen will be less than 20g per hour.
GENIE® hydrogen cylinder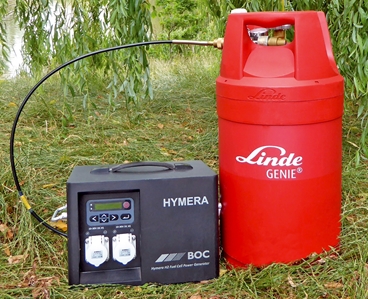 The HYMERA generator runs on hydrogen and is supported by the new lightweight 54-G20, GENIE® hydrogen cylinder.
When full, the 54-G20 cylinder package weighs approximately 22kg and a single cylinder contains enough hydrogen to generate 6-7kWh of electricity.
Read more about the GENIE hydrogen cylinder
HYMERA in action
Watch the HYMERA generator and GENIE hydrogen cylinders in action, powering the world's first commercially-viable hydrogen fuel cell lighting tower, the Ecolite-TH2.
Submit an enquiry about HYMERA
Complete the enquiry form below and a BOC representative will get in touch.