---
Lightweight cylinders with cost savings benefits
The innovative 300 bar GENIE® gas cylinder is ideal for those who need a portable gas solution for your working environment.

GENIE® is lightweight and easy to move around with a whole host of features:

Built-in alarm detects low gas levels before running out mid-job


Safe and stable, no cylinder restraints needed


Interactive digital display indicates gas level


Protective handles prevent regulator damage


Easy-grip handles mean effortless lifting

Up to 45% More Gas
Get more work done with more gas.
GENIE cylinders are 300 bar, which means they contain up to 45 percent more gas than a comparable standard steel cylinder.

More gas, less re-ordering and less collection or delivery charges.

The GENIE is available in 10L or 20L
Smart cylinders
Digital display screen indicates the flow rate and the remaining gas at the simple touch of a button, which helps manage gas requirements.

A low contents alarm sounds when there is only 25% or 10% gas remaining and when the cylinder is empty. No more running out in the middle of the job.
Available for argon, carbon dioxide, oxygen, helium, nitrogen and various shielding gases.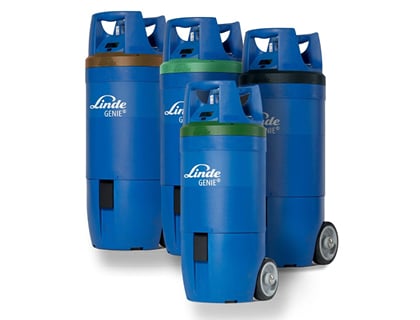 Choose your gas now

Optional accessories include a detachable wheelbase, telescopic handle and 300 bar regulators.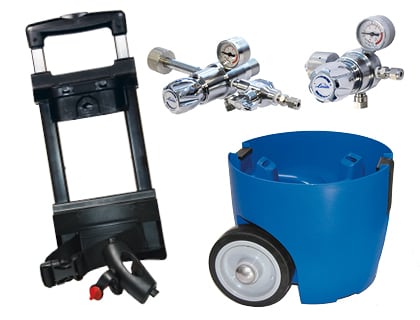 View all accessories