---
Why the hospitality industry chooses BOC online
When happy customers are your bread and butter, the last thing you want to do is leave them to go and order more gas. That's why BOC online has been made with the hospitality industry in mind.
<!—social proof-->
"We found that ordering gas by phone was keeping team members off the shop floor, so I just went online, registered our account and we now order everything that way. It was easy to set up and re-ordering gas is just as quick and simple. We're open until 11 pm, so the ability to order during some of our quieter periods is really useful."
- Amy, Taco Bell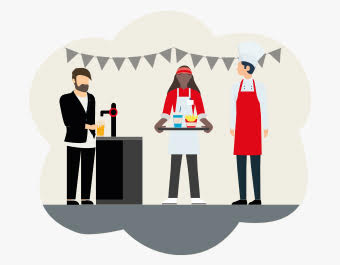 What the hospitality industry tells us they like most:
Waiting on the phone taking you away from your customers? Order your gas in seconds and during quieter periods and evenings
Running low on gas following a busy weekend? Order from us 24/7
Not in to sign for your order? Download digital proof of delivery notes that show which staff member accepted your gas delivery
Need to share the task of ordering gas between staff members? It remembers your previous orders, making it easier for any team member to place an order
---
Get started
Join the thousands of customers already saving time and effort by switching to online ordering and start enjoying the many benefits today.