Principle
Microorganisms that biologically treat wastewater require sufficient oxygen to survive and treat wastewater. Hence, efficient oxygen transfer is an essential component of all aerobic wastewater treatment processes.
Oxygen transfer can be achieved by using air or pure oxygen. However, air contains only ~21 percent oxygen in it. So when wastewater treatment demands vary and performance standards become stringent, pure oxygen based delivery system can significantly enhance your process.
Vitox
Vitox systems are extremely efficient and powerful dissolution systems for upgrading existing plants and for purpose-built systems.
These systems are ideal solutions for permanent or intermittent effluent overloading or oxygenation shortfall.
Effluent treatment using an oxygen-based Vitox system (image on left) versus effluent treatment using an air-based system (image on right)
SOLVOX®-B
SOLVOX®-B systems are fine bubble diffuser systems that do not require external power for operation.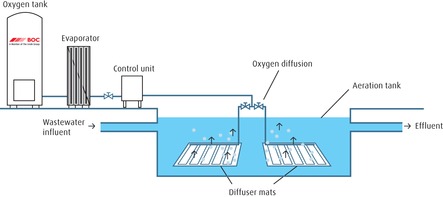 Solvox®-B perforated hose for dissolving of oxygen without auxiliary energy

Benefits of SOLVOX®-B:
Pure oxygen systems immediately increase treatment performance on overloaded plants and plants where treatment performance is sub optimal.

The systems provide additional oxygen transfer required to operate at higher dissolved oxygen concentrations for successful and reliable nitrification.

Systems require minimal additional power, minimise foaming or aerosol generation and hence improve operational parameters such as settlement performance and overall COD performance.

Improved performance from an existing asset.
Vitox and SOLVOX®-B have been used for a variety of river, lake and other aquatic oxygenation projects around the world. These systems have oxygen transfer capacities from 40 kg / day up to 40 tonnes / day.